Getting Hitched on the Island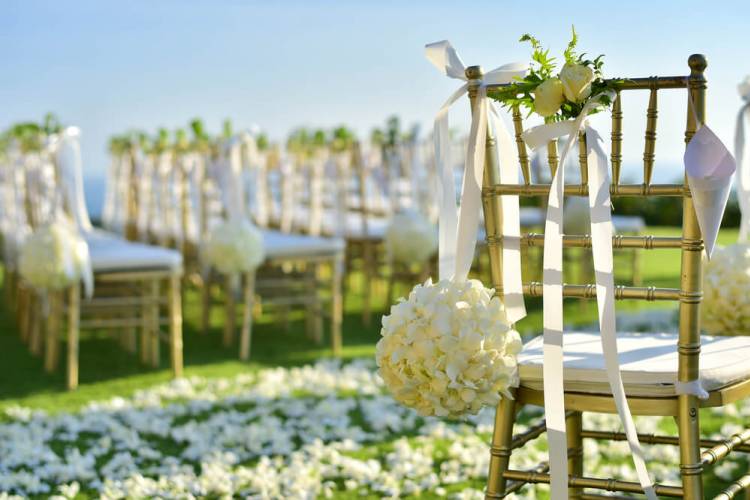 Tie the Knot at St. Simons Island Wedding Venues
Many people dream of the perfect destination wedding to tie the knot on their special day. But, one of the most challenging questions is figuring out what destination is right for you. St. Simons Island offers an idyllic setting for any wedding with endless miles of breathtaking beaches and moss-covered oak trees. So, whether you want to say "I do" on the beach, by the river, or under beautiful oaks, there are St. Simons Island wedding venues for everyone! Choose to stay with Real Escapes Properties and enjoy more space in our vacation rentals for your wedding day.
Captain's Bluff offers an idyllic and secluded wedding venue on St Simons. Their venue includes 18 acres of grounds along the Frederica River with romantic oaks and lush natural surroundings. They have ceremony and reception sites available, including a boathouse, restored barn, and private docks. Captain's Bluff can host weddings of all sizes with a max of 200 guests.
Village Creek Landing is a private peninsula on St. Simons Island, offering a fantastic event setting. The views of the Marshes of Glynn and the surrounding islands create a spectacular backdrop for your special day. Their site includes a gazebo, decks, and covered porches with simple furnishings to easily customize your wedding style. 
Musgrove Coastal Georgia Wedding offers several unique backdrops for your St. Simons Island wedding venue. Choose to tie the knot under low draping oaks with views of the marsh at Oaks Bluff. Their Maze Garden offers an idyllic koi pond, maze, and ivy draped pergola. Finally, the Riverbend Court is a beautiful marsh front location that can host up to 300 guests. No matter what venue you choose, Musgrove makes it easy to plan your perfect day.
If you are looking for a wedding by the ocean, then The King and Prince is your place! Their oceanfront lawn is steps from the beach, offering the perfect backdrop for pictures. There are also several options for your wedding reception available for 20-300 guests. The elegant Lanier Ballroom offers spacious banquet space, and the Hampton Clubhouse is fantastic for small weddings. The King and Prince have everything you need for your special day.
St. Simons Island Vacation Rentals for Groups
St Simons Island wedding venues are the perfect place to plan your wedding on the Georgia coast. Real Escapes Properties offers spacious vacation rentals on the island to host you, and your guests. 120 Druid Oaks Lane is a beautiful four-bedroom home with a private pool just steps from the beach! Properties like Harbor Light at the Beach and Docs Inn are excellent for families and large groups. Discover all of our St. Simons Island vacation rentals and start planning your wedding on St. Simons Island today!