Beaches of the Golden Isles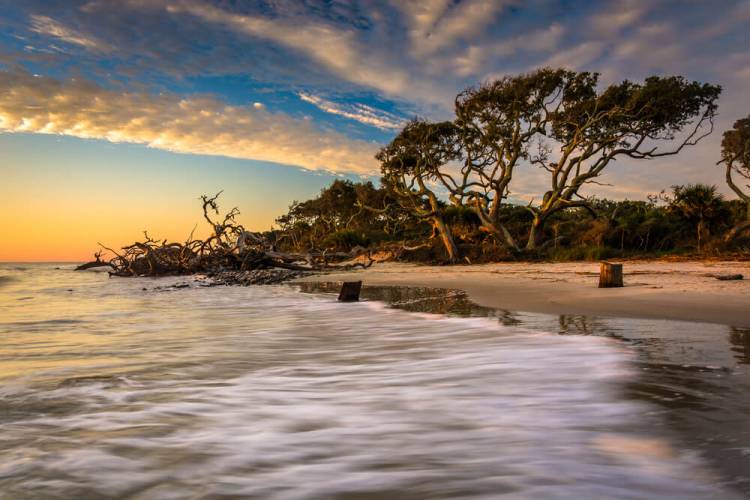 A Guide to Georgia's Golden Isles Beaches
Imagine a place where seemingly endless beaches line the coast and summer sunshine creates a golden hue on the sand and ocean. This place is Georgia's Golden Isles, aptly named after the natural golden radiance of the islands. So, if you have been searching for the perfect summer beach vacation, look no further than our slice of paradise. Visit the picturesque Golden Isles beaches and spend your days swimming, shelling, and relaxing. Stay near the beach with  Real Escapes Properties on St. Simons Island and make the most out of your Georgia beach getaway!
St. Simons Island is the largest barrier island in the Golden Isles and offers endless miles of golden beaches. East Beach is the only beach on the island, but it splits into several access points that offer different activities and amenities. Here are a few of the top access points on St. Simons Island.
Gould's Inlet: Located in the northern part of East Beach, Gould's Inlet is a top destination for fishing, paddle boarding, and bird watching.

Massengale Park: This Golden Isles beach is excellent for families. There is a playground, picnic area, and excellent swimming access here.

Coast Guard Station: Also known as First Street Beach, this is the most popular beach on the island. The vast sandy shores provide plenty of room for relaxing or trying water activities.
We offer 17 beautiful properties along East Beach, ranging from two to six bedrooms. Never lose sight of the beach with Real Escapes Properties!
You can access Jekyll Island from St. Simons Island by car, taxi, or shuttle. Once you are there, you will find ten miles of beautiful beaches on the island that offer a variety of activities. 
Driftwood Beach: An icon of the Golden Isles, Driftwood Beach is a must-visit! Named after the weathered driftwood trees that line the shores. This coastline is an excellent spot to plan a picnic and snap some memorable vacation photos!

St. Andrews Beach: Visit St. Andrews Beach for fantastic shelling, walking, bird watching, and dolphin spotting.

Glory Beach: You will find a vast and pristine beach on the South end of Jekyll Island. Glory Beach was even used as a filming location for the 1989 film Glory. This beach is a popular spot for kite-flying, wildlife watching, biking, and relaxing. 
A Summer Getaway to the Golden Isles
There are dozens of Golden Isles beaches to discover during your Georgia getaway. All beaches on St. Simons Island and Jekyll Island are open to the public, but the beaches on Little St. Simons and Sea Island are private for guests only. Choose to stay in our Oasis at East Beach, and you will be within half a mile of the beach. Use our complimentary beach chairs, wagons, toys, frisbee set, and cornhole to bring the fun to the beach with you! No matter where you decide to stay, you will be a short distance from the beautiful beaches and activities on the island with Real Escapes Properties.