St Simons by Kayak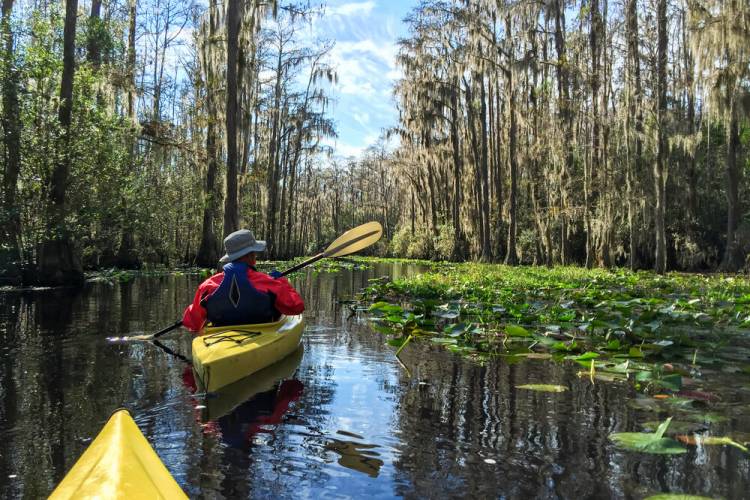 Escape to Georgia Sunshine: Kayaking St. Simons Island
As winter approaches, thoughts of escaping the snow are already on many people's minds. So, if you are looking for a break from scraping ice off your car in exchange for beautiful beach days full of sunshine you've come to the right place. You can find the perfect beach to escape winter on St. Simons Island. Winter on the coast of Georgia brings mild weather and quiet beaches, perfect for exploring everything our island has to offer. Kayaking St. Simons Island is an excellent year-round activity to relax and take in the beauty of Georgia's landscapes. 
Stay with us at Real Escapes Properties, and you will have convenient access to everything St. Simons has to offer. Many of our vacation homes are within walking distance to the beach, restaurants, shopping, and attractions. Discover the distinct and scenic waterways of the Golden Isles during your next Georgia getaway. 
Kayak Rentals on St Simons Island
If you want to explore the water independently and don't have your equipment, then rent a kayak from Turtle Tides Outfitters. Before you head out for your adventure, make sure to check the St. Simons Island tide chart.  
Where to Go on Your Own
Now that you know where to rent your kayak, you will need to know the best spots to start. The best part of kayaking St. Simons Island is the unlimited access to waterways in the Golden Isles. You can find a complete list of popular kayaking spots in the area here. 
Kayak with a Guide
The best way to see everything the Golden Isles has to offer is to embark on a guided kayak tour. Paddle through beautiful marshes and watch for wildlife as you explore the scenic waterways surrounding St. Simons Island. 
Southeast Adventure Outfitters
Southeast Adventure Outfitters offers daily kayaking tours designed for all ages and skill levels. Choose the 3 hour St. Simons Kayak tours, and you will have an opportunity to see Postell Creek and the Sea Island Sandbar, where you will stop and gather some shells to commemorate your trip. They also have a 2-hour tour of Village Creek that is perfect for beginners. 
Golden Isles Paddle Company
Golden Isles Paddle Company offers kayaking tours on both St. Simons Island and Jekyll Island if you want even more ways to explore the coast of Georgia. Choose between the morning, afternoon, and sunset tours on either St. Simons Island or Jekyll Island. 
Escape to the Golden Isles this Winter
Kayaking St. Simons Island is just one way you can enjoy the year-round warm weather in Georgia. Outdoor enthusiasts will love spending time biking, golfing, fishing, or horseback riding during your visit. If you are looking for a more laid back vacation, you can relax in our spacious Real Escapes Properties. Our vacation rentals are perfect for any group visiting the area. If you have any questions about the activities on St. Simons Island or our vacation homes, don't hesitate to reach out at 855-634-1667.