Night Life on St Simons Island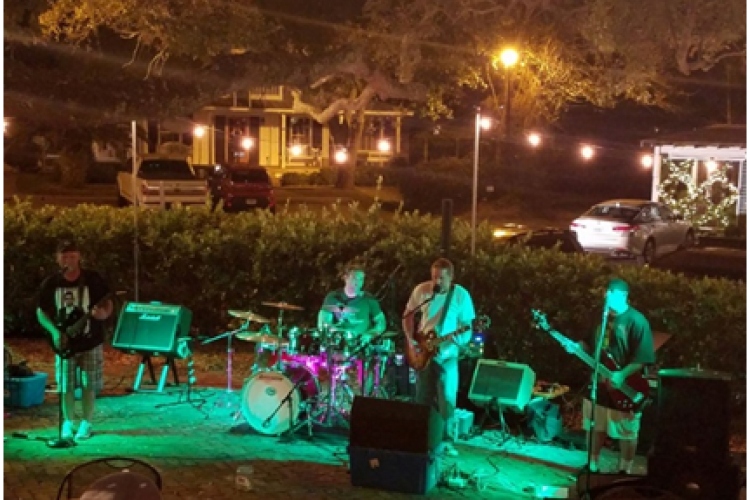 Explore the Nightlife on Your St. Simons Getaway
Everybody knows that a vacation means it's time to kick back, unwind with a cocktail, listen to live music, and indulge in a happy hour or two while staying with Real Escapes Properties. While St. Simons Island generally features a quiet scene, there are unique opportunities to find live music, crafty cocktails, brews, and happy hours during your getaways. When you're looking for excitement and fun things to do in Georgia at night, you'll first need to know where to look. Lucky for you, we'll go over a couple of our favorites and where to find the best entertainment during your stay!  
Live Music on Island Time
In Redfern Village, you'll find the most restaurants that offer live music every week. Gnat's Landing usually has bands every weekend in their outside courtyard. On select weekends and sometimes mid-week, you'll be entertained by acoustic performances at Catch 228, Bubba Garcias and Golden Isles Olive Oil Wine Bar. 
The Pier Village area is also a hub for live music.  Mullet Bay, Village Inn & Pub and Palm Coast Coffee offer weekly music for your enjoyment!  Off the beaten path, you'll catch some of the best musicians at Demere Grill on Wednesdays, Coastal Kitchen on Sundays and Echo (at the King &Prince) most Thursday through Saturday evenings.
A Different Kind of Music
When you travel to St. Simons Island and you want live music, sometimes the best 'show' is in the form of Karaoke! You can find karaoke at the Tree Bar (Bennie's Red Barn) on Wednesdays and at Demere Grill on Thursdays. Palm Coast Coffee hosts an Open Mic Night on Monday evenings.
No Shortage of Entertainment
There's always something happening in St. Simons Island, GA, when it comes to finding live entertainment. You'll discover karaoke, open mic nights, trivia nights, and opportunities to dance! The Golden Isles CVB website will keep you up to date on the weekly live music, entertainment, and fun nightly things to do here. To learn more about what you can experience during your Georgia getaways and to plan your itinerary, click here!  If you are looking for the best "I'm with the Band" listing – visit Elegant Island Living's website! 
Winter Escapes to St. Simons Island, GA
Spend your time away from the snow this winter and surrounded by beautiful sandy beaches and sunshine in St. Simons Island, GA. Real Escapes Properties offers a variety of options on the island so that you're able to select the perfect cottage, condo, home, or bungalow for your getaway. No matter what you choose, you'll have the comforts of home with a fully equipped kitchen set up, televisions, washers and dryers, and many other features. Take a look at our rentals and start planning your winter escapes— it'snever too early! Please give us a call at 1-855-634-1667 if you have any questions while booking online. 
Here is a partial list of Music Venues on the island:
Bennie's Red Barn, The TreeBar - 5514 Frederica Road - live music Thursday, Friday & Saturday nights   
Bubba Garcia's, 200 Redfern Village 
Catch 228, 228 Redfern Village
Coastal Kitchen, 102 Marina Drive (Morningstar Marina) – most Sunday afternoon/evenings
Demere Grill, 2463 Demere Road - live music Wednesday nights
Echo at The King and Prince, 101 Downing Street - live music most Thurs-Sat.
Ember Mas Lounge, 70 Retreat Village (across the parking lot from Winn Dixie)
Georgia Sea Grill, 407 Mallery Street - restaurant/wine bar with nightly piano music -
Gnat's Landing, 310 Redfern Village - live music most Fri-Sun
Golden Isles Olive Oil Wine Bar, 306 Redfern Village - Tuesday & Sunday live music 
Mellow Mushroom, 440 Kings Way - live music Tuesday, Thursday & Saturday nights through summer
Mullet Bay, 512 Ocean Blvd. - live music Friday and Saturday nights
Murphy's Tavern, 415 Mallery Street
Neptune Park - site of Sounds by the Sea concerts - 550 Beachview Drive (lawn behind the Casino Building/bandstand)
Palm Coast Coffee Café & Pub, 318 Mallery Street
Porch, 549 Ocean Blvd. - live music Wednesday nights 
St. Simons Lighthouse Lawn - site of Little Light Music concerts - 610 Beachview Drive
Sea Palms Resort, 515 N. Windward Drive - live music Thursday & Friday nights 
Village Inn and Pub, 500 Mallery Street - live music Thursday, Friday, Saturday nights
Ziggy's, 206 Retreat Village (near Winn-Dixie)