Explore St Simons Island by Golf Cart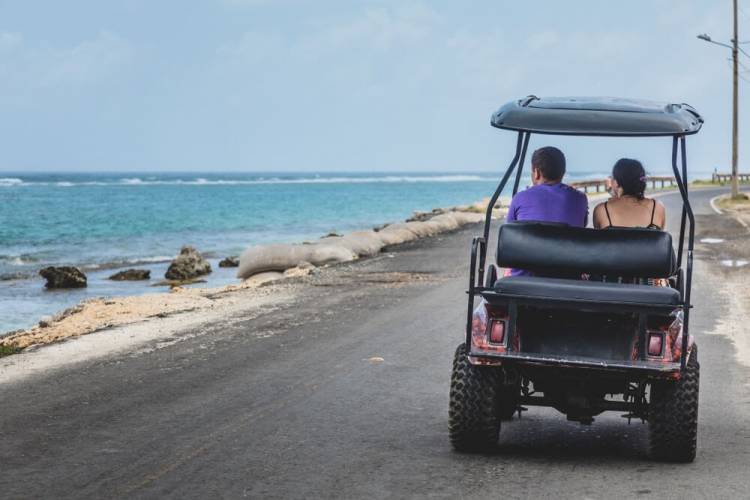 Getting Around: Golf Cart Rentals on St. Simons Island
St. Simons Island is full of history and Southern charm, making it the perfect place for a beach vacation. Oak trees stand tall and glorious beaches line the coast. And the best way to see it all is by driving around on a golf cart. Luckily there are many golf cart rentals available on the island. Stay in one of our oceanfront rentals at Real Escapes Properties and never lose sight of the beach. Explore the island on a golf cart rental and fall in love with all the things to do in St. Simons Island.
The Finest St. Simons Golf Cart Rentals
Traveling the island by golf cart is a popular way to see the island. Because of this, there is a multitude of golf cart rentals to choose from. Choose between an electric or gas golf cart, depending on your preference. We ask you to respect the rules and golf cart responsibly. As always, do not drive while intoxicated and wear your seatbelt. The carts are not permitted on roads with speed limits of more than 35 mph. And golf carts are not allowed on beaches or sidewalks. That being said, obey the traffic laws and share the road with motorized vehicles. And more than anything, be safe and have fun! Here is a list of golf cart rentals in St. Simons Island; browse this list to find the best golf cart to explore the island.
Explore St. Simons Island
Golf carts allow an easy way to travel from destination to destination. Learn about rich history at St. Simons Island Lighthouse or Fort Frederica. Then head down to East Beach for shelling, sunbathing, and swimming. Go kayaking, sailing, or paddleboarding when you rent from Barry's Beach Service. From history to beaches to shopping, St. Simons Island is chalked full of things to do. Below is a list of potential golf cart adventures to try during your next getaway with Real Escapes Properties.
Soak up Georgia
Sunshine with Real Escapes Properties 
Explore St. Simons Island in style with a golf cart rental. Spend a day at the beach or hiking at Cannon's Point. You already have a friend on the island with Real Escapes Properties. Book your favorite beach cottage with us today, and don't hesitate to call us at 855-634-1667 if you have any questions.