Top 12 Things to Do on St. Simons Island With Kids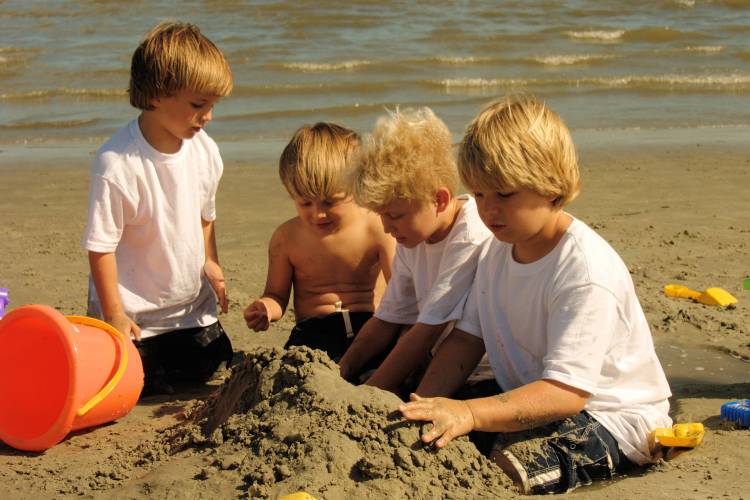 St. Simons is a tiny island located along the coast of the state of Georgia. It is part of a series of islands known as the Golden Isles. Known for its salt marshes, expansive beaches, and towering weeping willow trees, St. Simons is a tropical haven for families. Vacation rentals on St. Simons vary from sprawling mansions on the water to cozy cottages that line the Intracoastal Waterways. Check out the 12 most popular activities on St. Simons for families with children.
1. Tour the St. Simons Lighthouse
Source: Flickr/Evangelio Gonzalez
Located at the southern tip of the island, the lighthouse is a 104-foot tall structure that was rebuilt in 1872. Said to be haunted by the ghost of the light keeper Frederick Osborne who was killed in a duel by his assistant in 1880, this lighthouse is a fun tour for all ages. Climb the 129-step trek to the top for excellent views of the Atlantic and the island below, and then visit the museum at the bottom which details more information about the structure. There's also a lighthouse trolley tour that takes you on a two-hour scenic tour of the island
2. Fish on the Pier
Source: Flickr/mwms1916
The St. Simons Island pier is the ideal place for fishing with the kids. There are tray tables and water hoses for preparing your bait, and at night the pier has lights, so you can stay as late as you'd like. Kids can cast their nets and go crabbing. If you need supplies, head to the local hardware store or the bait and tackle shop in pier village, which is just a short walk away. Afterward, pack up your bounty and head back to your vacation rental for a feast.
3. Rent Golf Carts
Source: Pixabay/24ox24
One of the easiest ways to get around the island is by golf cart. Beachin Cart Rentals (770-550-4623) offers golf carts for daily, weekly, and monthly Golf carts are fun, Eco-friendly, and offer an excellent way to smell the salt air and have some fun. Carts range from a four-seater to a six-seater for larger families. Gas only.  Please obey the golf cart rules when you rent!
4. Spend Time on the Beach
Source: Flickr/Ralph Daily
You can't plan a vacation to St. Simons without spending a little time relaxing on the beach. East Beach is one of the more popular beaches in the area and it is ideal for families.  Kids can build a sandcastle or learn how to stand-up paddleboard. There's also windsurfing, skim boarding, or you can walk along the water's edge looking for shells. When you are ready to escape the water and the heat, stop by The Pier/Village area for shopping, souvenirs, and ice cream.
5. Play a Game of Putt-Putt
Source: Pixabay/27707
Located near the St. Simons lighthouse, Neptune Park is the perfect place to go after dinner when you are looking for activities with the family. This 18-hole course has a host of crazy obstacles, including twists and turns that make it a challenging event. It is open year-round and is the perfect spot for photographs.
6. Go on a Kayaking Adventure
Source: Pixabay/vonpics
If you prefer calm waters over the ocean, stop by Southeast Adventures and sign up for a kayaking tour amidst the salt water marshes. Before you get in the ocean, you'll learn about safety and how to traverse the waters. You'll see many animals and stop mid-way through the trip on a remote beach for birding and shelling. The trip is ideal for all ages, and young children can ride tandem with an adult.
Find the perfect Saint Simons Island vacation rental on www.realescapesproperties.com
7. Tour Fort King George
Source: Flickr/Evangelio Gonzalez
Located 15 miles north of Brunswick, Fort King George is a reconstructed British fort and old sawmill ruins that offer the perfect stop to go for history buffs. There are tours of the plantation house, and you can learn about life on a rice plantation before the Civil War. Take a picnic and enjoy a bite to eat, and then visit the gift shop for mementos of your trip.
8. Explore Cumberland Island
Source: Flickr/Bert Cash
Cumberland Island is a natural barrier island off Georgia's coast. It is home to the Dungeness ruins, which was a mansion built by Tom Carnegie. You'll also find an abundance of feral horses that run free along the beach, and you may spot a loggerhead turtle as it makes its way into the water. Spend the day hiking or shelling, or tour the one-room African Baptist Church located on the north end.
9. Play at Neptune Park Fun Zone
Source: Pixabay/422737
Not only does Neptune Park offer putt-putt, but it also hosts a large waterpark and playground. Get some exercise in the lap lanes or let the kids splash around in the wading pool. The state-of-the-art playground has swings, slides, and variety of climbing structures to keep them busy. There are also plenty of benches for parents to observe.
10. Search for Tree Spirits
Source: Flickr/popofatticus
Another great way to spend an afternoon with the children is to search for the Island's tree spirits. There are nine tree spirits encased in trees throughout the island. If you find yourself stumped, grab a map at the Golden Isles Visitor Center and find out where these beautiful tree carvings are located.
11. Learn About Sea Turtles
Source: Pixabay/Kanenori
The Georgia Sea Turtle Center is located next door on Jekyll Island. This sanctuary is a haven for injured sea turtles found in the area. Here, you can learn about the center's residents and learn how to protect the habitat of these beautiful creatures. Sign up for a nighttime turtle watch, and if you are lucky, you and the kids may see a batch of hatchlings as they make their way out into the Atlantic.
12. Ride Horses on the Beach
Source: Pixabay/shoelessRVA_photography
There's nothing quite like going horseback riding on the beach. Go riding at The Stables of Frederica or for a rental at the Three Oaks Farm. Gallop along the white sand beaches or take a dip in the edge of the water while on your faithful steed. This activity is ideal for children four and up.
 
Ready to go?  Check out these amazing Saint Simons Island vacation rentals on Real Escapes Properties.