Lighthouse History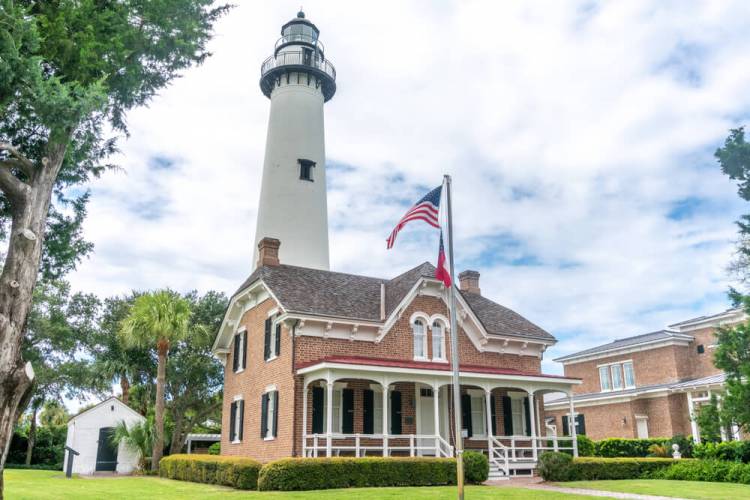 History of the St Simons Island Lighthouse
The St. Simons Island Lighthouse is only one of five surviving lighthouses throughout the entire state of Georgia. The lighthouse has been a beacon on the island for over 150 years, contributing to the rich history of Coastal Georgia. Before you ascend the lighthouse stairs, Real Escapes Properties is here to give you a brief background on its storied past!
Today's lighthouse was not the first light tower built in this spot. The first lighthouse was completed in the early 1800s. This lighthouse was octagonal, 75 feet tall, featured eight-foot thick walls, and used whale oil to fuel the lantern. They used a mixture of oyster shells, sand, water, and lime to construct the building. It is suspected that ruins from Fort Frederica were used during this process.
In 1861 the first St. Simons Lighthouse came to its demise. In the midst of the Civil War, Confederate soldiers blew up the tower in an effort to keep it out of the hands of the Union Navy. 
The Rebuilding of St. Simons Lighthouse
After the destruction of the first lighthouse, it would be ten years until the St. Simons Lighthouse you see today would be built. This lighthouse was constructed with Savannah grey brick at 104 feet tall by famous Georgia architect Charles Cluskey. At the same time, a two-story Victorian-style Keeper's Dwelling was completed. 
The lighthouse was outfitted with a kerosene oil Fresnel lens made in France. The Keeper's Dwelling was occupied from 1872 through the mid-1950s until the lens was automated with electricity. In 1939 the U.S. Lighthouse Service was disbanded, and the Coast Guard took over control. 
The Lighthouse Today
In 2004 the St. Simons Lighthouse went to the Coastal Georgia Historical Society, which remains open for public viewing today! Visitors are welcome to climb the Lighthouse tower and take in the panoramic views of the surrounding coast, Jekyll Island, and Brunswick. 
After climbing the stairs, you can visit the St. Simons Lighthouse Museum housed in the old Keeper's Dwelling. Stroll through exhibits of rare photographs, artifacts, and interactive displays. The second-floor features period rooms from the early 1900s, so visitors can experience what life was like for lighthouse keepers. We invite you to visit the lighthouse and museum for yourself to learn more about the fascinating history of St. Simons Lighthouse!
Plan a Georgia Getaway for History Buffs!
After visiting the St. Simons Island Lighthouse, continue your trip into our storied past at other historic sites. From the archaeological remains of Fort Frederica to over 30 historic sites on nearby Jekyll Island, we are a paradise for history lovers. Choose Real Escapes Properties to host your getaway on St. Simons Island, and browse our collection of over 160 vacation rentals. We can't wait to welcome you to our slice of Georgia paradise!